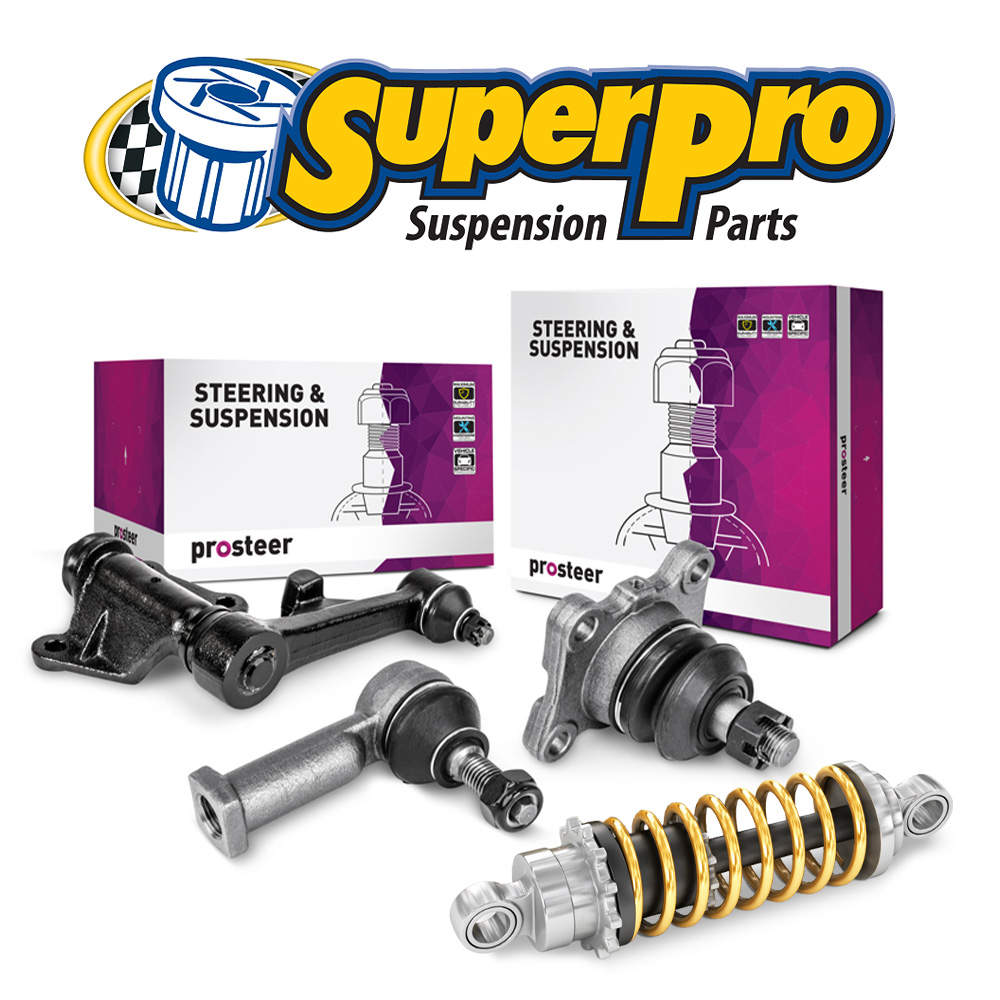 Steering & Suspension Components
AAD's commercial suspension offering includes all those items required in the repair or replacement of the more common wearing components.
Bushes, rockers, pins and air springs form the core of this range.
All components are manufactured by world leading international suppliers.
The range covers:
Air Suspension
Mechanical Suspension
King Springs
King Springs are world leaders in aftermarket coil springs. King Springs are specialists in manufacturing high quality aftermarket coil springs for world-wide automotive applications. King Springs design and manufacture all their springs to create one of the best coil springs on the continent.
King Springs products are available through our national warehouse and distribution network. All popular vehicles including 4WD are covered by their extensive range. To find out more get in contact with our passionate team and see if King Springs are right for you
SuperPro
AAD stocks a wide range of SuperPro components. SuperPro is an innovative Australian manufacturer of automotive polyurethane suspension bushings, control arms, swaybars and other suspension components for both 4×4 and performance vehicles.
A globally renowned aftermarket suspension manufacturer, SuperPro has a long history of providing customers with a lifetime of value and quality solutions in all that they do.
KYB Strut Kit
simplified product offering for customers wanting to ensure longer lasting components, reduced fitting costs and the confidence to get the job done first time, every time.
Do the job once: By the time a car has reached 80,000kms, all suspension components have gradually deteriorated. If a strut has failed, it is highly likely that the strut mount, dust boot & bump stop are worn out as well. To avoid further problems, replace all recommended components at the same time.
Save time and money: By replacing the strut mount, dust boot & bump stop at the time as a strut, it will save labour time and prolong the new strut's life by providing enhanced protection & support.
Fit with confidence: KYB suspension products are vehicle specific, making each part ideal for its corresponding make and model. Perfect fit first time, every time.
KYB Suspension Mounting Kits
The upper strut mount supports are one of the key elements within the suspension assembly, as they provide a link between the shock absorber and the body of the car. Made of quality materials on modern equipment, the KYB upper strut mount supports improve handling and comfort when driving on any road. KYB technologies and strict production quality control allow us to offer the customer high quality goods.
KYB Suspension Mounting Kits contain all the components that are required for correct installation, such as struts mounts, bearings, mounting plates, mounting nuts & bolts.
KYB Protection Kits
Safeguard your new KYB Struts' performance and durability, by installing a KYB Protection Kit during every strut replacement.
A strut bump stop and protection boot are key elements within the suspension assembly, as they prevent dust and moisture from damaging the piston surface and seal, while also protecting the piston rod from corrosion due to road pollution.
KYB Protection Kits contain all the components that are required for correct installation.
STEERING COMPONENTS
AAD offers a comprehensive steering components program. Prosteer and Transteering components make up our range resulting in exceptional application coverage. The Transteering range covers in excess of 3,000 parts with great depth that includes automotive, industrial and agricultural.
Ball Joints
Tie Rod Ends
Idler Arms
Drag Link
Centre Rod
Pitman Arm
Rack End
Side Rod
Control Arms
The Prosteer range is designed for control. Bringing together two key systems of steering & suspension. Prosteer parts are either equal for surpass OEM, providing a great fit for purpose option for any steering or suspension need. The whole Prosteer range is dedicated to providing excellent quality, a large and ever-expanding range and backs up their quality with an extended warranty.
See our full range of products and order online:
Order Online