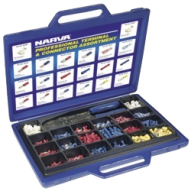 Narva Electricals
Narva is a proud Australian brand, with over 65 years of experience, which has more than 5,000 individual part numbers make up the Narva electrical range in Australia's most comprehensive market leading catalogue. Narva is a leading supplier of automotive wholesales, the auto-electrical trade, automotive and transport retailers and a key supplier to vehicle manufacturers throughout Australasia.
All products carrying the Narva name are engineered to the highest standards and tested by experienced quality and product engineers providing the ultimate peace of mind. Narva has invested heavily in the design, engineering, and development of products for the global market and has an advanced environmental laboratory and state-of-the-art optical lighting test facility and has the most comprehensive range of quality lighting and accessories. Lighting and electrical components should regularly be checked and the wear out quickly and will often need replacing.
Narva's range covers a large range of applications including passenger vehicles, trucks, commercial light vehicles, commercial heavy vehicles, coaches, caravans, recreational vehicles and RV trailers, 4WD vehicles, as well specialist applications for both classic and modern passenger vehicles and many additional applications. Narva has a huge range of OE, aftermarket and replacement automotive lighting and electricals. AAD stocks a large range of wholesale Narva electric products and accessories, with many wholesale options available.
Narva's automotive electrical & lighting product line includes:
Driving & Fog Lamps
Emergency Lighting
Globes – Incandescent & Halogen
Fuses & Fuse accessories
Terminals, connectors & cables
Switches, Relays, Flashers & horns
Trailer Connectors & Suzi Coils
Conventiona; Truck & Trailer Lighting
RV & Interior Lighting
Sealed Truck & Trailer Lighting
E.D Truck & Trailer Lighting
AAD strives to find and supply the best in automotive technologies, which is why we were proud to stock and supply such a large range of Narva products as they are recognised leaders in automotive electrical technology.
See our full range of products and order online:
Order Online