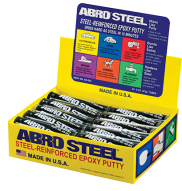 Glue
Automotive Adhesives are used for a multitude of tasks including joining seats, spoilers, tailgates, side skirts, headlights, dashboards and many others. Adhesives are an essential part of automotive repairs and maintenance and should be parts of every tool and accessory collection. AAD has a large range of wholesale automotive adhesives from world leading adhesive specialists. AAD's range of automotive adhesives cover a range of applications and brands available. Find out more about some of the brands AAD stocks below.
PERMATEX
From the world leader in cyanoacrylate, or super glue, technology comes a complete line of adhesives designed to cover the vast majority of common automotive repairs and materials. From the revolutionary Ultra Bond™, high performance super glue, to Dr. Bond™ adhesive, Permatex offers a wide range of instant adhesives to meet your many needs. Permatex offers a wide range of bonding and sealing solutions which included epoxies, instant adhesives, sealants, speciality adhesives and super glues. Permatex specialty adhesives offer ideal solutions for many automotive bonding jobs. As complements to a full line of super glues, these products make a more complete adhesive set, while the tried and true formulas guarantee consumer satisfaction.
ABRO STEEL
Abro quality repair adhesive Abro Steel mixes like putty & hardens like steel! Can be drilled, tapped, sanded or filed when cured. Abro steel weld putty can be uan be used to repair leaks, breaks, cracks and holes in a number of different items including cars, lorries, boats, pipes, tanks, sinks, tiles etc… It is resistant to temperatures between -70°C and +260°C and, once cured, is impervious to most acids and solvents (including petrol and diesel). It does not conduct electricity and can be used as an insulating material.
Available in black or white, carded or counter display proving a display option for every need.
See our full range of products and order online:
Order Online