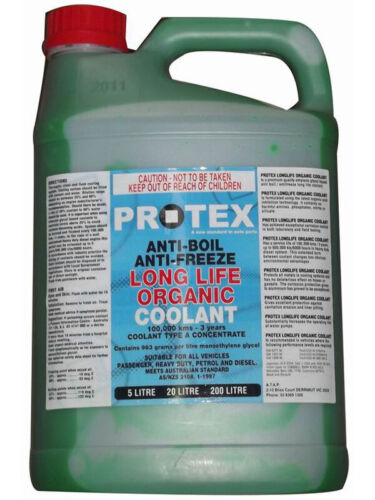 Coolant
PROTEX LONG LIFE ORGANIC COOLANT
This is a premium quality, organic, long life anti-boil / anti freeze concentrate. Suitable for both automotive and heavy duty diesel engines. This product protects all metals found in cooling systems and gives excellent protection against cavitations erosion and significantly increases the operation life of water pumps.
It exceeds corrosion performance levels required to meet Australian standard AS/NZS 2108.1-1997. Containing 86% monoethylene glycol and a double inhibitor package ensuring ultimate corrosion protection and extended life service. It contains no silicates, borates, phosphates, nitrites, nitrates or amines and will not have adverse effects on hoses or gaskets.
PROTEX CONVENTIONAL ENGINE COOLANT TYPE A
Protex Type A coolant is a fully formulated ethylene glycol based anti-boil / anti-freeze coolant concentrate. Suitable for most automotive vehicles it is manufactured to meet or exceed vehicle manufacturer, national and international standards. Offering protection for all metals used in today's engines and against "hot spot" corrosion, common in aluminium cylinder heads. This coolant delivers excellent cold climate protection and contains no amines or nitrites.
PROTEX CORROSION INHIBITOR TYPE B
Protex Type B is an extremely effective, water based corrosion and rust inhibitor. It can be used in all automotive engines where anti-boil/anti-freeze is not recommended or required. This will guard against rust, scale and sludge build up and ensure complete protection for all metals found in automotive systems, including alloy. This product exceeds the requirements of AS/NZS 2108.1-1997 for coolant Type B. It has no harmful effect on rubber hoses and gaskets.
AAD stocks a large range of premium coolant products. We select from only the best brands and products to bring you a comprehensive and wide range of products for a large selection of the Australian automotive industry.
To find out more and see our full range of coolant products sign into our online ordering portal:
Order Online