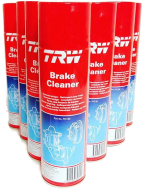 Cleaners
PROTEX WHEEL CLEAN
Protex Wheel Clean safely cleans all wheels
Made from Oxalic Acid, an organic compound derived from Pepper
Protex Wheel Clean was the most powerful tested against 43 other wheel cleaning products
Not damaging to mags, calipers etc.
Does not contain any aggressive acids or alkaline based chemicals
Easy to use 500ml trigger spray or 1lt Refill bottle
FINALLY PROTEX OFFERS A WHEEL CLEANER THAT REALLY WORKS:
Resellers now have a new top quality wheel clean to boast about. This is the answer to the need for a performance based product that cleans wheels effectively without resorting to the traditional offensive chemicals. Like all Protex products it is sold at a very competitive price.
Protex Wheel Clean is a different option to what is currently being offered. It is neither soap or traditional acid so we remove the problems these products have had with their performance or safety. This means resellers and workshops can now sell customers an all new product with the confidence of a great result and repeat business. Definitely a win-win.
TRW BRAKE CLEANER
Home Made Reliability – TRW makes its own Brake Cleaner so that you know you can trust it as the right solution.As you would expect TRW Brake Cleaner is also an essential choice for quicker, safer and easier braking repairs or servicing. Specially formulated, TRW's market-leading Brake Cleaner makes up an important part of TRW's comprehensive braking system range:
Fast and effective
CFC free
Trichloroethane free
Rapid evaporation
Safe on rubber components
Powerful 500 ml aerosol that works at all angles, even upside down and tight spaces
Kind to installers' hands
BENDIX BRAKE CLEANER & DEGREASER
A specialist multi-purpose brake parts cleaner that works effectively, while being non-corrosive, non-staining and leaving no residue on surfaces. Bendix Brake/ Parts Cleaner& Degreaser is a full strength cleaner and degreaser that safely and effectively removes brake fluid, grease, oil and other contaminants from brake parts and components. It can dissolve grease and grime without disassembly. Not only is it effective on brake parts, this solution can be used on other components as a general purpose degreaser anywhere in the workshop. The 1 litre compressed air mini sprayer is the perfect applicator giving you enhanced coverage and is built tough for durability and chemical resistance.
Features:
It penetrates rapidly, cleans instantly and evaporates fast
It is specifically formulated to safely and instantly dissolve and displace all contaminants common to brake components
It rapidly removes brake fluid, grease and oil- even residue that has accumulated over a long period idreadily removed leaving surfaces clean & dry
It can be used on brake assembly, brake drums, disc pad backing plates, wheel cylinders, clutch plates, springs, starter motors, starter switches and callipers
Available in a 400g aerosol spray or 20 litre drum
ABRO CLEANERS & DEGREASERS
ABRO offer a full range of cleaners & degreasers including:
Brake & brake parts cleaner
Formulated to clean and degrease brakes, CV joints, and clutch components without disassembling
Carb & Choke Cleaner
Frees sticking manual or automatic chokes
Spray dissolves harmful fuel system deposits
Eliminates hard starts, rough idling, and stalling
Foaming Engine Degreaser & Heavy Duty Engine Degreaser
Spray on and rinse off with water
Effectively dissolves grease and grime in 5 minutes
Safe on most underhood rubber and plastic
Battery Terminal Cleaner & Protector
Foaming cleaner prolongs battery life
Dissolves and neutralizes corrosion
Prevents damage to cables and terminals
PERMATEX CLEANERS
Aerosol Cleaner
Permatex first introduced aerosol cleaners to meet the needs of the professional technician. Today our automotive cleaners have gained wide acceptance as the highest quality products available of their kind.
To dissolve rust, clean plastic or remove gum and deposits from parts, there is a Permatex specialty cleaner that will do the job. Permatex offers a complete line of professional strength cleaners and degreasers, each formulated to the highest standards and quality.
Degreasers
To cut through tough grease, grime, and other stubborn soils.
MOTORTECH CLEANERS & DEGREASERS
The MOTORTECH brand offers quality products with a comprehensive range of Specialty Maintenance, Additives and Car Care products. Motortech supports its products with unparalleled customer service and technical backup.
MT005 Tyre Shine 400g
Motor tech Tyre Shine is the easiest and most effective way to impart shine to tyres, louvers, mudflaps and bumpers.
It is designed to give the ultimate new appearance to tyres. Prevents dirt from forming on tyres. Just spray on and let the product produce the shine on your tyres. Ideal for use on low profile and performance tyres.
MT130 Wheel Cleaner 400g
Motortech Wheel Cleaner is a dynamic water based non acidic cleaner designed to rapidly clean wheels thus improving the appearance without hazing or discolouration. The Motor tech Wheel Cleaner contains special additives designed to penetrate and release contaminants such as dust, soil and road grime from wheels enabling easy removal by hosing off with clean water. It is safe to use on most wheel types and painted surfaces.
MT001 HD Degreaser 400g
Motortech Degreaser is a power f ul multipurpose degreaser designed to remove grease and grime from numerous surfaces including engines, lawn mowers, outboard motors, concrete floors, driveways and general workshop surfaces. The Motortech Degreaser is formulated to quickly soften and remove grease and grime in one application leaving the metal surface sparkling clean. The degreaser leaves no residues or by products that will require further cleaning.
MT002 WD 400g
Motor tech WD Spray is a heavy duty water dispersant designed to displace moisture and assist in lubricating, protecting and starting wet motors.
The product is suitable to be used on most machinery parts, heavy duty engines and hobby engines. It is fast acting in displacing moisture from engines and motor parts and protects against corrosion. Motortech WD Spray also stops squeaks and loosens rust parts.
MT200 Brake Cleaner 400g
Motor tech Brake Cleaner is a dynamic cleaner designed to rapidly remove brake fluids, oils, dust, dirt, grease and other contaminants from brake linings, disc pads, drums, clutch plates, rotors, cylinders and springs. Stops squeal in disc brakes and can be applied without disassembly of brakes.
Motortech Brake Cleaner dries superfast which enables quicker brake part changes. It also cleans other workshop equipment.
MT117 Throttle Body & Carby Cleaner 400g
Motortech Carby & Throttle Body Cleaner is a powerful cleaner designed to rapidly remove carbon deposits, oil, sludge, gum and varnish from interior of carburetor and throttle body, throttle shaft and plate and restores carburetor efficiency, rough idling and stalling. It is suitable to be used on choke valves, automatic choke controls, carburettor exterior, linkage and heat-riser valves.
See our full range of products and order online:
Order Online