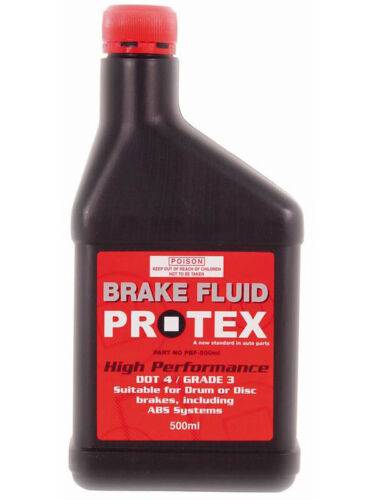 Brake Fluid
Brake Fluid is the life blood of the braking system. Huge demand is placed on brake fluid especially by modern day vehicles. With the increase in ABS and brake related stability control sets, the braking systems of vehicles fitted with such extras can generate temperatures up to 700 degrees C, causing the fluid to get as hot as 170 degrees C.
AAD stocks quality brand brake fluids in various container sizes. Protex Brake Fluids are premium Grade 3 Dot 4 fluids which are designed to handle both older and modern-day vehicles.
Protex Fluid range includes:
Brake Assembly Fluids
Dot 3, 4 Brake Fluid and Silicon Fluid
Super Dot 4 Brake Fluid in 500ml, 5L and 20L
Brake Clean- 20 Litre drum only
Available in 500ml, 5 litre and 20 litre drums. All come in easy to pour containers and the different sizes suit all different needs.
See our full range of products and order online:
Order Online