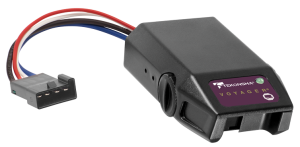 Brake Controllers
Tekonsha Brake Controllers are used worldwide. Arguably the best brand of controllers available Tekonsha units are proportional brake controllers. With the ability to measure the level of deceleration of the tow vehicle Tekonsha deliver the level of brake control required by the trailer. During emergency braking maximum brake force is delivered to the trailer almost immediately. Under light braking reduced brake force is delivered to the trailer preventing over braking.
Tekonsha controllers maximize trailer braking efficiency and wear and tear and insure the tow vehicle and trailer slow at the same rate. They are compatible with virtually any 12-volt, negative ground tow vehicle.
Prodigy
Is the most advanced and intelligent approach to trailer brake controls. Prodigy, requiring no manual leveling, is a technological breakthrough among inertia-activated brake controls. Equipped with a self-adjusting sensing device similar to the one used in guided-missile technology to allow for easy, flexible installation — from nearly horizontal to nearly vertical — Prodigy constantly adjusts itself to the position of the tow vehicle. Prodigy has a limited life time warranty.
Voyager
The unit is more attractive, easier to install, and makes better use of space. Recessed controls protect gain and level settings from accidental readjustment. Ergonomically designed control lever for easy, accurate gain and level settings. Traditional 4-wire hookup and under-dash U-bracket assure secure and permanent installation. Broad control range makes setting quick and easy. The advanced electronics in the Voyager minimizes false braking, to give you a smoother ride, even on the roughest roads. Voyager has a five-year limited warranty.
Sentinel
The new Tekonsha Sentinel electronic brake control is the result of extensive consumer focus group research. It's exceedingly user-friendly and is inertia-activated using integrated circuitry for safe, smooth stops. Ergonomic design allows contour installation on dash for maximum visibility and comfortable reach. Sentinel has a five-year limited warranty.
AccuTrac
The AccuTrac is inertia activated and is for 1 or 2 axle brake systems. The AccuTrac is especially suited for constantly changing load conditions (as in the transport of horses). The dual-action slide controls allow customized stopping power both in town and on the highway. AccuTrac has a five year warranty.
See our full range of products and order online:
Order Online