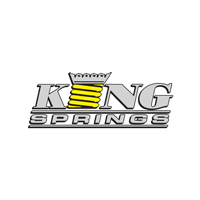 King Springs
King Springs are world leaders in aftermarket coil springs. King Springs are specialists in manufacturing high quality aftermarket coil springs for world-wide automotive applications. King Springs design and manufacture all their springs to create one of the best coil springs on the continent.
With more than 60 years of experience, King Springs are known for their passionate staff and locally manufactured products. Since their establishment in 1956 on Queensland's Gold Coast, King Springs has been striving to produce the best locally produced coil springs in Australia, built to suit a plethora of applications.
AAD is proud to stock King Spring products. AAD seeks to supply only the highest quality products which is why we are so happy to be suppling King Springs products. King Springs produce products for every application you could want, including passenger, commercial and 4WD vehicles. Not only do King Springs produce coil springs for road vehicles, they also product specialised coil springs for motorsport applications including circuit rally, speedway, and off-road racing.
King Springs are respected for their quality and performance. When it comes to spring design and durability King Springs knows neither compromise nor second best. They have achieved this top position from working on the streets, at the racetracks and over the toughest outback terrain there is.
Locally designed, developed, and made, the company uses high quality, high stress X5K spring steel. This X5K steel reduces the amount of steel required per spring and makes each spring approximately 30% lighter. This is matched by the hi-tech manufacturing process which ensures correct load as well as accurate diameter and height.
King Springs products are available through our national warehouse and distribution network. All popular vehicles including 4WD are covered by their extensive range. To find out more get in contact with our passionate team and see if King Springs are right for you.
Order Online